A Taste of Scary
Storytelling.


Brother Wolf holds his audience safe during the telling of his scary stories. Every scary storytelling teaches a lesson and holds a gift for the listeners. Whether for age 5 or age 55 all stories are age appropriate. Fairytales, ghost stories and local legends all mix together in a delightful blend of storytelling fact and fiction.
Eric Wolf performs with the Yellow Springs Tale Spinners, a local Yellow Springs Storyteller group, at the Young's Jersey Dairy Scary Barn and Hay Ride to over 3000 people every Friday and Saturday in the month of October.
A Christmas Carol
Dinner Theater in 3 Acts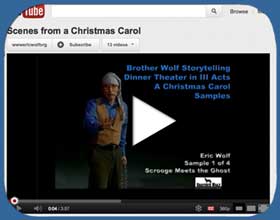 A One Man Dinner Theater Storytelling Experience in 3 Acts at the Hammel House in Waynesville, Ohio.
A storytelling of the classic story told by an Oracle Award Winning storyteller with a comic twist. Tearing down the fourth wall this production includes the audience in a raucous retelling of Dickens Immortal Holiday Tale. In December of 2011 7 of 9 performances were sold out a week in advance.
When Cats Could Fly...
Family Storytelling


A lighthearted hour of warm funny family storytelling with Eric Wolf. A dyslexic childhood in New York City has given storyteler Eric Wolf a rich tapestry of truth and fiction to draw upon for your entire families amusement. For Ages 9 to 99.
This storytelling show has a empowering effect on parents of dyslexic children, dyslexic students and other students who have learning struggles. Only iNDYfRINGE artist to receive a 5 out of 5 stars from Nuvo News Indianapolis Weekly in 2011 Indy Fringe.
A Taste of Sweet
Nature Based Storytelling.


Eric Wolf has a MS n Environmental Education from the Audubon Expedition Institute. He has taught wilderness education for over twenty years. His fairytales and personal experiences with nature inspire a relationship that harkens back to year gone by.
In 2010 Brother Wolf Storyteller organized the 4th national environmental storytellers retreat at his home in Yellow Springs, Ohio. He currently lives in the Vale - an intentional community that was founded in 1948.
Bedtime Stories
for Children


The perfect series of short and sweet videos for children's bedtimes. While youtube may not be child safe - these videos are.

Digital Storytelling at it's Best. A perfect combination of storytelling and pitures spun together to create a space a sweet little bedtime story.
Just the right length of story. Great for bedtime wiht a total of six stories all under ten minutes in length.